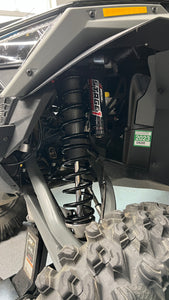 Zbroz Stage 1 Dual Rate spring kit first impressions on our RZR Turbo R Ultimate Dynamix
This blog is cross posted on RZRFourms.net
I installed the new Zbroz dual rate spring kit on my RZR Turbo R Dynamix 2 seater the weekend November 13th and then got out for a ride on the 20th of November. You can check out what else has been done to my RZR here. We drove down to the 4 Mile area by Buena Vista Colorado which has a little bit of everything from a terrain perspective. The main trail out of the parking lot is relatively smooth but fast and twisty with a bunch of small natural jumps that would give a stock RZR 800 or XP 1000 suspension SERIOUS BUCKING fits (if you know you know!). From there, the main trail turns into a sand wash that is great for flat out blasts of speed but not much of a challenge for any suspension. We then connected up to a trail called Chinaman Gulch which has some nice technical rock crawling areas. After that we connected back up to the Bald mountain loop trail which has a steady hill climb up to near tree line (~9500'). It's not too steep but like any trail at that altitude, it's just rough and rocky, low range max ~20mph.

For the first section of trail (fast and twisty with small natural jumps), the new springs were immediately noticeable. They are much more plush at the bottom of the stroke than the stock springs and then stiffen to resist bottoming when they crossover to the main spring as you would expect from a dual rate spring stack. They actually feel like a dual rate spring pack should now. Even though the stock springs were supposed to be dual rate on the Turbo R, I never could feel any rate change. They just felt very linear throughout the stroke to me and too harsh from the bottom to the top. I only had about 250 miles on the stock springs but they seemed to be getting more harsh as the miles went on. While the stock Turbo R springs didn't seem to be as bad as stock XP 1000/Turbo/Turbo S springs, after having aftermarket springs in the past, I felt there was room for a lot improvement and I wasn't wrong. As a lot of you know, jumps in a stock RZR can be a bit of a mixed bag, after hitting a few jumps with the Zbroz springs, my confidence started to go up tremendously and I found myself really enjoying jumps more than ever before. I started hitting the jumps as fast as I possibly could with my only worry being how much room I had to land. And the landings were probably the best part! The machine just lands SO smooth now. Where before there was still a sense of needing to brace for landing impact, that is gone. I was using track mode out of habit when we took this trail in the morning but on he way back to the trucks at the end of the day, I put the Dynamix in Baja mode. Before the spring kit, I found Baja mode to be almost unusable due to how harsh the ride was, now Baja mode is freaking awesome! It is totally usable now with the new springs. When you are hitting the trail as hard as you can, Baja mode is now the way to go. It's much more plush down low but gives you the compression damping to worry less about remembering to hit the "oh sh*t" button on G-outs and jumps. I was bummed I waited until the end of the day to try Baja mode.

Now for the rock crawling on Chinaman Gulch, the main benefit I see is the increased flex. I did remove my front sway bar a while back, and that made a big difference, but the Zbroz springs took it up another notch. The softer rate at the low end is a very noticeable step forward in flex. Dynamix Comfort mode is not bad in the rocks but I really started paying attention to what Dynamix "Rock" mode was doing for the car. Having done a lot of Jeeping in the past, I always missed the solid front axle in rock crawling situations in a RZR but yesterday was the first time I felt the IFS on the RZR was darn near on par with the flex of a SFA. Before the spring kit, the few times I tried "Rock" mode, the suspension just felt stiffer to me and not a lot different from "Track" or "Baja" mode on the rocks. Now with the sway bar pulled and the spring kit, Rock mode very obviously keeps the chassis of the car more level on off camber situations allowing much more "stuff" on the front wheels when needed. I pulled one of my front tires up on my buddy's 30" tire on his X3 and the chassis of the car stays almost level with all 4 tires feeling planted, no tippiness. Very nice. I should have taken a picture though.

On the last terrain style, the rough rocky hill climb to the top of Bald Mountain, again I was pleased with the springs. In comfort mode, the springs just make the rough trail smoother. There's not much else to say here other than this is where your wife will approve the most of the purchase 


If I can say anything negative at all, the recommended baseline crossover settings might be a little too high (meaning too much tender travel before crossing over to the main spring). I could see if you were racing the Baja or similar, doing 80-100 MPH through open desert and hitting whoops bumps and G-outs at speed, you might need to lower the crossover rings closer to the spring divider so you are hitting the main spring earlier. I didn't have any problems bottoming the suspension out on these trails we rode yesterday but there were a few spots on the trail where I hit the "Oh sh*t" button to make sure I didn't. This Turbo R has so much freaking travel I kept expecting I was going to bottom out but didn't actually do it. I'll post more updates here as I get more miles on them.

Check out all the Zbroz spring kits on our website here: Spring Kits

Here are a few pics from the 4 Mile/Chinaman Gulch ride:

The start of the day and the cleanest the springs will ever be again ha.
I screen shotted this from a video so it is a little grainy but you can see the right front starting to stuff up pretty nicely.
Just thought this pic was cool with the Peaks in the background
The top of Bald Mountain with amazing views of Mt Antero, the Collegiate peaks and Buena Vista off to the right.
Some decent flex here coming down a rock face with the chassis still nice and level.
---